Manufacturing Process & Capabilities
Raw Materials Storage
Each component that enters our product production stream is quarantined, inspected and tested upon its arrival to our facility. This includes all Witch Hazel pulp material, ingredients and storage containers.
After approval and entry into the production stream, raw materials such our Witch Hazel pulp enter a closed system that both stores and processes each ingredient. We maintain the largest supply of Witch Hazel raw material in the world, housed indoor in high capacity food-grade silos. This technique maintains the condition of the pulp by partially drying the twigs prior to distillation.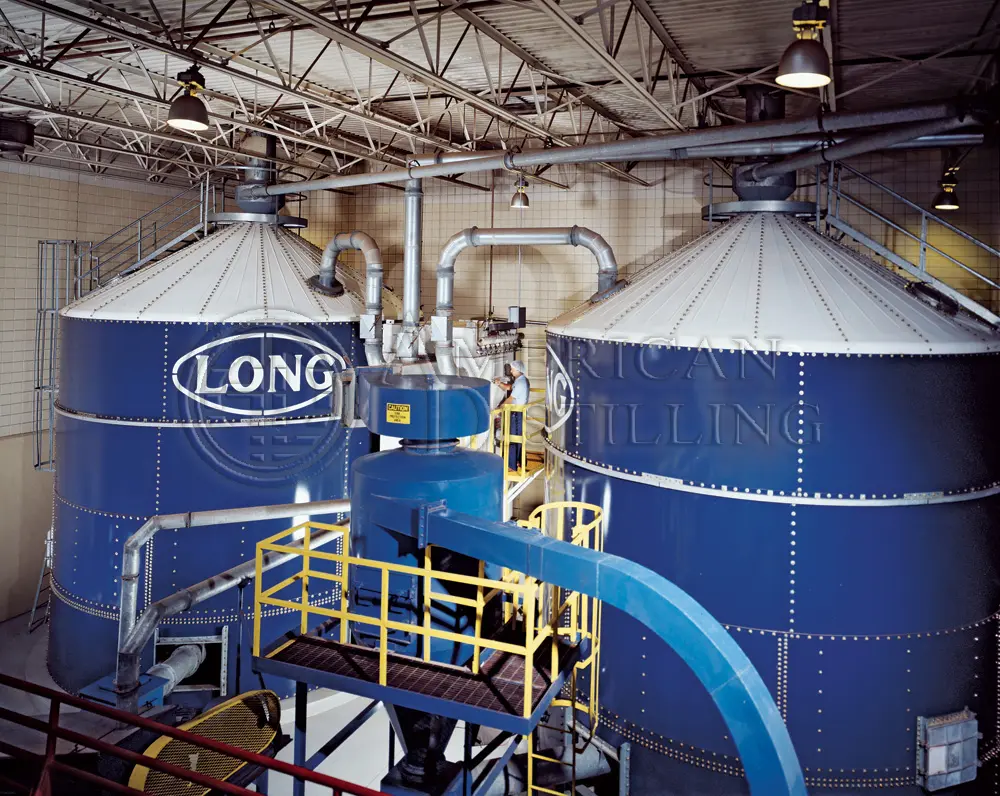 Proprietary Distillation Processes
Triple Filtration
American Distilling Witch Hazel Extracts are circulated through our preliminary filtration process and are analyzed for clarity, color, odor, pH, alcohol percentage and microbial contamination. They are then circulated through a secondary filtration process where product integrity and safety is tested once more. The finished Witch Hazel product is passed through a final filtration process as it is transferred to its shipping container be it drum, tote or bulk tanker.
Responsible Manufacturing = No Waste
At American Distilling, we continually seek to raise the bar for environmental responsibility and have designed our facility and operations to safeguard both our employees and the planet.
American Distilling earth-friendly practices include
Proprietary Organic System Plan

Heat reclamation – providing 95% of the facility's heat and hot water requirements

Pulp recycling – providing natural landscaping mulch

Consumables recycling

Electricity from renewable resources

Energy conservation – lighting, insulation

Cruelty free production – no animal ingredients or testing
Our comprehensive cGMP program ensures ongoing quality assurance throughout the manufacturing process, allowing us to be recognized as a certified vendor to several of the world's most distinguished companies.
Quality Control in Every Drop
Microbiology lab facility

Analytical lab facility – GC-MS, HPLC, FTIR technology

Incoming raw materials testing (pulp/bark, leaves, water, alcohol, bottles, drums, totes, tankers, preservatives)
pH, alcohol, microbiological and bioburden testing

cGMP, cGLP, cGDP practices